Description
Fishing Rod Rack: Anchor Pro Deluxe
A fishing rod rack designed to organize multiple rod holders in a stationary position for Anchoring, Trolling, and Dragging. The Rod Rack comes as 3 separate pieces: 2 – Aluminum Base/Side Pieces and 1 – 8 ft. Aluminum bar. The Anchor Pro Deluxe comes as a Package Deal of 1 – Rod Rack, 6 – Double Action 33/45 Rod Holders (Choose your own Color Variation), 6 – Economy Base 2. This Rod Rack specializes in keeping your Rod Holders firm and steady for Anchoring, Trolling, Dragging, Drifting, and any other fishing methods!
All mounting hardware necessary will be provided. If your boat is not 8 ft. in width, which most are not, you must measure the width of your boat and cut the 8 ft. Aluminum bar, with your preferred cutting method, down to the size needed. We do not do in-house welding or cutting of Aluminum, we also do not do customized lengths for the Aluminum bar, the cutting and outfitting of the Rod Rack is up to you as a consumer.
The Rod Rack can and will fit onto your track system by utilizing these Monster Rod Holder bases: Slide Track 45, Slide Track 90, SeaArk Track Rail Base, Double Duty Slide Track 45, and the Double Duty SeaArk Track Rail Base. Bases sold separately, purchase bases HERE. To mount the Rod Rack to the designated base, you would need to complete these steps:
Purchase 4 – Base of your choice
Expand the pre-drilled mounting holes on the Side/Base Pieces to accommodate the 1/2″ diameter for the base
Go to your local hardware store to find 1/2″ Nut and Bolt combination
Lock down the Rod Rack to your base by using the 1/2″ Nut and Bolt combination.
Dimensions:
Rod Rack:

Base/Side Piece:

Bottom portion (Mount to Boat):
Height: 14″
Top portion (Mount Aluminum bar):

Aluminum Bar:

Width: 2″
Length: 4″
Height: 8′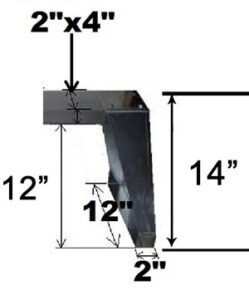 *ROD RACKS ARE NOT AVAILABLE FOR RETURN*